Tomato medley, prosciutto & bocconcini salad
Tomato medley, prosciutto & bocconcini salad
Prep 15 mins | Serves 4
500g tomato medley (like kumatoes, cherry, grape, tear drop and mini roma tomatoes), halved lengthways
1 tbs extra virgin olive oil
1 garlic clove, finely chopped
1 tsp caster sugar
8 thin slices prosciutto, halved lengthways
4 fresh small mozzarella or 8 bocconcini cheese balls, torn into pieces
1⁄4 cup small basil leaves
Caramelised balsamic vinegar* and grilled sourdough bread, to serve
*Caramelised balsamic vinegar is a thick, sweet and syrupy vinegar available from supermarkets
Step 1 Place tomatoes, oil, garlic and sugar into a medium bowl. Season with salt and pepper. Set aside for 10 minutes.
Step 2 Arrange tomatoes, prosciutto and mozzarella on serving plates. Sprinkle with basil and drizzle with caramelised balsamic vinegar. Serve with grilled sourdough bread.
Good for you ...
Medley Tomatoes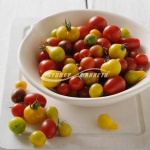 A very good source of vitamin C which contributes to the normal functioning of the body's immune system.
Provides potassium which may help balance the sodium from salt.
A source of dietary fibre which helps the normal function of the intestine.
Tomatoes are the richest food source of lycopene, a member of the carotenoid family. Research suggests that lycopene may play a role in the normal health of the prostate gland. The redder the tomato, the higher its lycopene content. Rich red tomatoes are also a source of beta carotene which is converted into vitamin A in the body and is needed for vision.