Tomato medley, mozzarella & basil salad
Tomato medley, mozzarella & basil salad
Prep 10 mins | Serves 4-6
500g tomato medley (like cherry, kumatoes, mini roma, tear drop)
1 tbs extra virgin olive oil + extra to serve
1 garlic clove, finely chopped
2 x 125g fresh mozzarella cheese balls*
1⁄4 cup black olives
Small basil leaves, to serve
Crusty bread, to serve
*Or use 250g fresh bocconcini cheese.
Step 1 Halve tomatoes lengthways and place into a large bowl. Drizzle with 1 tbs oil, sprinkle with garlic and season with salt and pepper. Gently toss to combine.
Step 2 Arrange tomatoes on a serving platter. Drain mozzarella cheese and tear into rough pieces. Arrange mozzarella over tomatoes. Sprinkle with olives and basil leaves and drizzle with extra virgin olive oil. Serve with crusty bread.
Good for you ...
Medley Tomatoes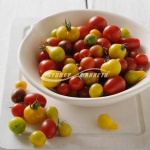 A very good source of vitamin C which contributes to the normal functioning of the body's immune system.
Provides potassium which may help balance the sodium from salt.
A source of dietary fibre which helps the normal function of the intestine.
Tomatoes are the richest food source of lycopene, a member of the carotenoid family. Research suggests that lycopene may play a role in the normal health of the prostate gland. The redder the tomato, the higher its lycopene content. Rich red tomatoes are also a source of beta carotene which is converted into vitamin A in the body and is needed for vision.