Tomato, egg & tuna brown rice salad
Tomato, egg & tuna brown rice salad
Prep 20 mins | Cook 8 mins | Serves 4
3 free-range eggs
450g pkt 2½-minute brown rice
2 Lebanese cucumbers, diced
400g heirloom tomato medley, halved or roughly chopped
185g can tuna-in-oil, drained and flaked
1/3 cup parsley leaves, chopped
1/4 cup pepita seeds
¼ cup sunflower seeds
¼ cup kewpie mayonnaise
1 tbs lemon juice
Step 1 Place eggs into a saucepan of cold water and bring to the boil over medium heat. Reduce heat and gently simmer for 8 minutes. Drain, refresh eggs in cold water and peel.
Step 2 Meanwhile, microwave the rice following packet directions. Place rice into a large bowl and set aside to cool.
Step 3 Combine rice, cucumbers, tomatoes, tuna, parsley, pepitas and sunflower seeds in a large bowl.
Step 4 Combine mayonnaise and lemon juice in a small bowl. Pour mixture over the salad and gently toss to combine. Chop eggs and gently toss through the salad. Spoon into airtight lunch boxes or bowls. Serve.
Good for you ...
Medley Tomatoes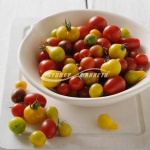 A very good source of vitamin C which contributes to the normal functioning of the body's immune system.
Provides potassium which may help balance the sodium from salt.
A source of dietary fibre which helps the normal function of the intestine.
Tomatoes are the richest food source of lycopene, a member of the carotenoid family. Research suggests that lycopene may play a role in the normal health of the prostate gland. The redder the tomato, the higher its lycopene content. Rich red tomatoes are also a source of beta carotene which is converted into vitamin A in the body and is needed for vision.