Tomato, cucumber & ham pasta salad
Tomato, cucumber & ham pasta salad
Prep 20 mins | Cook 10 mins | Serves 4
A great salad for picnics or the school lunch box
200g dried mini pipe rigate pasta
1 stick celery, trimmed and chopped
2 Lebanese cucumbers, diced
250g mixed small tomatoes (like cherry, mini roma, yellow tear drop)
1 carrot, peeled and roughly grated
200g chopped sliced leg ham
Yoghurt & Mayo Dressing
1⁄3 cup Greek-style natural yoghurt
1⁄4 cup whole egg mayonnaise
Salt and ground black pepper
Step 1 Cook pasta in a medium saucepan of boiling water, following packet directions, until just tender. Drain and refresh in cold water. Set aside in a colander to drain well. Place in a large bowl.
Step 2 Add celery, cucumbers, tomatoes, carrot and ham to pasta. Whisk yoghurt, mayonnaise and salt and pepper to taste in abowl. Drizzle mixture over pasta, gently toss to combine and serve.
Good for you ...
Medley Tomatoes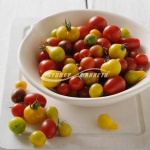 A very good source of vitamin C which contributes to the normal functioning of the body's immune system.
Provides potassium which may help balance the sodium from salt.
A source of dietary fibre which helps the normal function of the intestine.
Tomatoes are the richest food source of lycopene, a member of the carotenoid family. Research suggests that lycopene may play a role in the normal health of the prostate gland. The redder the tomato, the higher its lycopene content. Rich red tomatoes are also a source of beta carotene which is converted into vitamin A in the body and is needed for vision.