Tomato & fresh mozzarella salad with basil & garlic crumb
Tomato & fresh mozzarella salad with basil & garlic crumb
Prep 10 mins | Serves 4-6
This salad is delicious served with char-grilled chicken for an easy dinner.
600g mixed ripe tomatoes*
350g tub fresh mozzarella cheese, drained and roughly torn
Extra virgin olive oil, for drizzling
Basil & garlic crumb:
1 tbs olive oil
2 garlic cloves, crushed
1 cup coarse fresh sourdough breadcrumbs
½ tsp dried chilli flakes
2 tsp finely grated lemon rind
1/3 cup small basil leaves
*Use a selection of vine-ripened, heirloom, kumato and cherry tomatoes.
Step 1 To make basil & garlic crumb, heat oil in a large frying pan over medium heat. Add garlic, breadcrumbs and chilli and cook, stirring often, until crisp and golden. Transfer to a plate lined with paper towel to cool. Combine cooled crumbs, lemon rind and basil leaves. Gently toss to combine.
Step 2 Arrange tomatoes and mozzarella on a serving platter. Sprinkle with basil and garlic crumb. Drizzle with extra virgin olive oil, season with salt and pepper and serve.
Good for you ...
Medley Tomatoes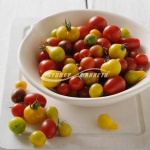 A very good source of vitamin C which contributes to the normal functioning of the body's immune system.
Provides potassium which may help balance the sodium from salt.
A source of dietary fibre which helps the normal function of the intestine.
Tomatoes are the richest food source of lycopene, a member of the carotenoid family. Research suggests that lycopene may play a role in the normal health of the prostate gland. The redder the tomato, the higher its lycopene content. Rich red tomatoes are also a source of beta carotene which is converted into vitamin A in the body and is needed for vision.