Thai herb & cabbage prawn salad with red chilli dressing
Thai herb & cabbage prawn salad with red chilli dressing
Preparation 25 mins | Serves 4
4 cups (about ½ medium) finely shredded Chinese cabbage
3 cups (about ¼ cabbage) finely shredded red cabbage
2 carrots, peeled and shredded lengthways
4 green onions (shallots), trimmed and thinly sliced diagonally
1 large Lebanese cucumber, halved lengthways, deseeded and sliced
¾ cup coriander leaves
¾ cup mint leaves
¾ cup Thai basil leaves
12 large cooked prawns, peeled and deveined
1/3 cup chopped salted peanuts
Lime wedges, to serve
Red chilli dressing: 3 long red chillies, deseeded and chopped
¼ cup lime juice
2 tbs fish sauce
1 tbs peanut oil
1 tbs sesame oil
1 tbs caster sugar
Step 1 To make the red chilli dressing, place all ingredients into a small food processor. Process until the chillies are finely chopped. Set aside.
Step 2 Place cabbage, carrots, green onions and cucumber into a large bowl. Drizzle with half the dressing and toss to combine.
Step 3 Toss through coriander, mint and Thai basil. Divide salad between serving bowls. Arrange 3 prawns on each salad bowl. Sprinkle with roasted peanuts. Serve with remaining dressing and lime wedges.
Good for you ...
Chinese Cabbage (Wombok)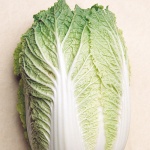 Chinese cabbage is a good source of folate, a B vitamin that is needed for normal cell division and growth and development in children.
A good source of vitamin C, which contributes to reducing tiredness.