Tangy lime curd
Prep 15 mins | Cook 15 mins | Makes 2 Cups
Make this tangy lime curd while limes are in peak season.
5 free-range eggs
¾ cup caster sugar
2 limes, rind finely grated
¾ cup freshly-squeezed lime juice (about 5 limes)
125g unsalted butter, cubed and softened
Biscotti or almond biscuits, to serve
Step 1 Combine eggs, sugar and lime rind in a large heat-resistant bowl. Whisk until well combined. While constantly whisking, add lime juice and butter.
Step 2 Place the bowl over a saucepan of simmering water (ensure the bowl base does not sit in the water). Gently whisk for 12-15 minutes until mixture thickens. Do not allow the lime mixture to boil. Remove bowl from heat. Strain mixture through a fine sieve into a clean heat-proof bowl. Cover with plastic wrap, pressing the plastic onto the surface of the lime curd. Refrigerate overnight.
Step 3 To serve, spoon lime curd into small glasses and serve with biscotti or almond biscuits.
Note, the hot lime curd can be spooned into a sterilized jar and stored in the fridge for up to 2 months.
Good for you ...
Limes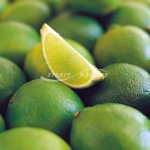 Like all citrus fruits, limes are a good source of vitamin C which contributes to the normal functioning of the body's immune system.
The flesh of limes provides dietary fibre, which helps keep the intestine functioning normally.