Tabouli & couscous salad
Prep 20 mins | Cook 5 mins | Serves 4-6 as a side dish
11⁄2 cups couscous
11⁄2 cups boiling water
300g can cannellini beans, drained and rinsed
3 cups firmly-packed flat-leaf parsley leaves, chopped
1 cup mint leaves, chopped
4 green onions (shallots), thinly sliced
250g grape or cherry tomatoes, chopped
1⁄3 cup extra virgin olive oil
2 lemons, juiced
Step 1 Place couscous into a large heatproof bowl. Pour over boiling water and stir to combine. Cover and set aside for 3 minutes or until water is absorbed. Stir with a fork to separate grains.
Step 2 Add cannellini beans, parsley, mint, green onions and tomatoes to couscous. Toss gently to combine.
Step 3 Combine oil and lemon juice in a screw-top jar. Season with salt and pepper to taste. Shake well to combine. Pour dressing over couscous salad, gently toss and serve.
Good for you ...
Parsley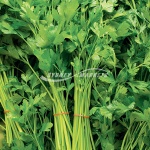 A sprig of parsley doesn't provide significant quantities of nutrients, but when used in larger amounts, parsley is highly nutritious, providing iron, needed for making red blood cells; vitamin C, useful for helping keep gums healthy (35g of parsley supplies the recommended dietary intake of vitamin C; beta carotene, which is converted to vitamin A and is needed for normal vision; potassium, which helps balance sodium from salt; and calcium, needed for healthy bones.)