Sweetcorn, carrot & chicken rissoles in tomato sauce
Sweetcorn, carrot & chicken rissoles in tomato sauce
Prep 25 mins + chilling time | Cook 35 mins | Serves 4
500g chicken mince
1 egg, lightly beaten
1 small carrot, grated
½ small red onion, grated
1 cob sweetcorn, kernels removed
2 tbs olive oil
2 garlic cloves, crushed
250g cherry tomatoes, halved
500g jar tomato pasta sauce
350g dried penne pasta
Grated parmesan, to serve
Step 1 To make rissoles, combine chicken mince, egg, carrot, onion and corn kernels in a large bowl. Mix until well combined. Using a heaped tablespoon per rissole, roll mince mixture into small balls. Place on a tray, cover with plastic and refrigerate for 30 minutes.
Step 2 Heat 1 tbs oil in a large non-stick frying pan over medium-high heat. Cook rissoles, in batches, for 4-5 minutes until evenly browned. Transfer to a plate. Wipe pan clean with paper towel.
Step 3 Heat remaining 1 tbs oil in the frying pan over medium heat. Add garlic and tomatoes and cook, stirring for 2-3 minutes until hot. Stir in tomato pasta sauce. Season with salt and pepper. Cover and cook, stirring occasionally, for 10 minutes. Add rissoles, reduce heat, cover and simmer for 10 minutes.
Step 4 Meanwhile, cook penne in a large saucepan of boiling water following packet directions. Drain. Serve the penne with the tomato and rissoles and grated parmesan.
Good for you ...
Sweet Corn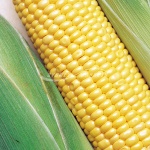 A good source of dietary fibre which contributes to normal laxation.
Provides niacin (vitamin B3) which is needed for the release of energy from food and also the B vitamins biotin and folate. Biotin contributes to the maintenance of healthy skin, mucous membranes and hair while folate is needed for the formation of blood cells. Also provides some iron that is needed for making red blood cells.
A source of potassium that may help balance the sodium in salty foods.
The carbohydrate in sweetcorn is digested slowly and has a low glycaemic index (GI)