Sweetcorn & red cabbage slaw with falafels
Sweetcorn & red cabbage slaw with falafels
Prep 25 mins | Cook 3 mins | Serves 4
2 sweetcorn cobs, husks & silks removed
1⁄2 small Chinese cabbage, finely shredded*
1⁄4 small red cabbage, finely shredded*
1 carrot, shredded
2 green onions, trimmed and thinly sliced
2 tbs toasted mixed seeds
2 tbs whole egg mayonnaise
1⁄4 cup Greek-style natural yoghurt
2 tsp lemon juice
*You'll need about 2 cups red cabbage and 2½ cups Chinese cabbage for this recipe.
To serve:
12 falafel patties*
200g reduced fat hummus
4 rounds Lebanese bread
*Falafels are Middle Eastern style small vegetarian rissoles. They're available from the fridge section in supermarkets.
Step 1 Place corn in a single layer in a shallow heatproof dish. Cover and microwave on high for 3 minutes. Set aside to cool. Once cool, slice off corn kernels and place into a large bowl. Add Chinese and red cabbage, carrot and green onions. Toss to combine.
Step 2 To make dressing, combine mayonnaise, yoghurt and lemon juice in a small bowl. Season with salt and pepper to taste. Stir mayonnaise mixture into corn mixture until combined.
Step 3 To serve, warm falafels following packet directions. Serve falafels with the slaw, hummus and Lebanese bread.
Good for you ...
Sweet Corn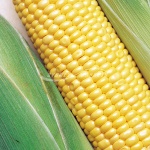 A good source of dietary fibre which contributes to normal laxation.
Provides niacin (vitamin B3) which is needed for the release of energy from food and also the B vitamins biotin and folate. Biotin contributes to the maintenance of healthy skin, mucous membranes and hair while folate is needed for the formation of blood cells. Also provides some iron that is needed for making red blood cells.
A source of potassium that may help balance the sodium in salty foods.
The carbohydrate in sweetcorn is digested slowly and has a low glycaemic index (GI)