Super green salad & egg bowls
Super green salad & egg bowls
Prep 30 mins | Serves 4
1 cup mixed quinoa
4 free-range eggs, at room temperature
100g baby spinach leaves
2 Lebanese cucumbers, sliced
2 sticks celery, thinly sliced
2 green onions (shallots), trimmed and thinly sliced
2 medium just-ripe avocados, peeled, deseeded and sliced lengthways
1/3 cup pepitas
Tarragon & yoghurt dressing:
½ cup Greek-style natural yoghurt
¼ cup mayonnaise
2 tbs lemon juice
2 tbs finely chopped fresh tarragon
1 garlic clove, finely minced
Step 1 Cook quinoa following packet directions. Set aside to cool.
Step 2 Boil eggs in a small saucepan of simmering water for 5 minutes (for soft boiled). Drain, rinse in cold water and peel eggs.
Step 3 To make tarragon & yoghurt dressing, whisk all ingredients in a bowl until well combined. Season with sea salt and pepper to taste. Chill until ready to serve.
Step 4 To serve, arrange quinoa, spinach, cucumbers, celery, green onions and avocados in shallow serving bowls. Halve boiled eggs lengthways and top each bowl with an egg. Drizzle with the dressing, sprinkle with pepitas and serve.
Good for you ...
Avocados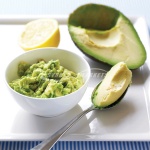 Avocados are one of the few fruits that contain fat, but it's in the form of unsaturated fat.
A source of vitamin E, a vitamin that helps protect cells from damage due to free radicals.
A good source of vitamin C and also a source of folate (a B vitamin). Both these vitamins contribute to the normal functioning of the body's immune system.
Provides the B vitamins niacin (B3) and biotin, which both contribute to normal production of energy in the body.