Summer veggie chilli con carne
Summer veggie chilli con carne
Preparation 20 mins | Cooking 35 mins | Serves 4-6
1 tbs olive oil
1 medium red onion, finely chopped
1 yellow capsicum, deseeded and cut into 1cm dice
300g zucchini, cut into 1cm dice
2 garlic cloves, crushed
2 tsp smoky paprika
2 tsp ground coriander
400g can diced tomatoes
3 ripe egg (Roma) tomatoes, diced
400g can red kidney beans, drained and rinsed
400g black beans, drained and rinsed
¾ cup coriander leaves, chopped + extra to serve
Mashed avocado, lime wedges, sour cream, chopped coriander and reduced-salt corn chips, to serve
Step 1 Heat oil in a large frying pan over medium-high heat. Add onion and cook, stirring occasionally, for 3 minutes until softening. Add capsicum, zucchini and garlic and cook, stirring often, for 3 minutes.
Step 2 Stir in paprika and coriander and cook, stirring, for 1 minute. Stir in canned and fresh tomatoes and 1/3 cup water. Cover and bring to the boil over medium heat. Reduce heat and simmer uncovered, stirring occasionally, for 15 minutes until slightly thickened. Stir in beans. Partially cover and gently simmer over low heat for 10 minutes or until vegetables are tender. Season with salt and pepper. Stir through coriander.
Step 3 Sprinkle with extra chopped coriander. Serve with with mashed avocado, lime wedges, sour cream and reduced salt corn chips.
Good for you ...
Black Zucchini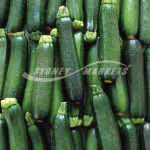 A source of vitamin C and folate. Vitamin C helps us absorb iron from foods and both these vitamins contribute to the normal functioning of the body's immune system.
Dark green varieties contribute some beta carotene, an antioxidant pigment which the body can convert to vitamin A