Summer tomato, ham & basil pasta salad
Summer tomato, ham & basil pasta salad
Prep 25 mins + chilling time | Cook 15 mins | Makes 6
400g orecchiette pasta
400g tomato medley, halved
1/2 small red onion, very finely sliced
1 garlic clove, finely minced
1 tsp finely grated lemon rind
1 tbs lemon juice
2 tbs extra virgin olive oil
¼ cup toasted pine nuts
300g sliced leg ham off the bone, roughly chopped
1/2 cup firmly-packed small basil leaves
100g Greek feta cheese, crumbled
Step 1 Cook pasta in a large saucepan of boiling water, following packet directions. Drain in a colander, rinse in cold water and set aside to dry (*see tip) and cool.
Step 2 Meanwhile, combine tomatoes, onion, garlic, lemon rind, lemon juice and oil in a large bowl. Season with sea salt and pepper to taste. Gently toss to combine. Set aside for 10 minutes.
Step 3 Add cooled pasta, pine nuts, ham, basil and feta to the tomato mixture. Gently toss to combine and serve.
*Tip: The pasta needs to be dry with no water residue, pat dry with paper towel if necessary.
Good for you ...
Medley Tomatoes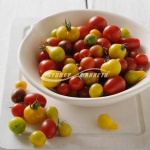 A very good source of vitamin C which contributes to the normal functioning of the body's immune system.
Provides potassium which may help balance the sodium from salt.
A source of dietary fibre which helps the normal function of the intestine.
Tomatoes are the richest food source of lycopene, a member of the carotenoid family. Research suggests that lycopene may play a role in the normal health of the prostate gland. The redder the tomato, the higher its lycopene content. Rich red tomatoes are also a source of beta carotene which is converted into vitamin A in the body and is needed for vision.