Summer fruit jelly cups
Preparation 20 mins + chilling time | Makes 6
1 x 85g packet strawberry jelly
½ small pineapple, peeled
½ small rockmelon, deseeded and peeled
200g small seedless grapes
125g plump strawberries, hulled and chopped
75g blueberries
1 cup reduced fat vanilla yoghurt or Greek-style yoghurt, to serve
1 small ripe mango, peeled and flesh cut lengthways into thin strips
Step 1 Make jelly following the packet directions. Pour mixture into 6 x 350ml recyclable plastic cups. Refrigerate for 4 hours or until set.
Step 2 Chop pineapple and rockmelon into a small dice. Place into a bowl. Toss through grapes, strawberries and blueberries. Top the set jellies with the fruit salad. Top with a dollop of yoghurt and mango slices and serve.
Good for you ...
Strawberries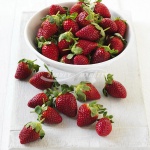 A good source of vitamin C which contributes to formation of collagen and thus plays a role in healthy gums, teeth, bones, cartilage and skin.
A source of folate, a B vitamin needed for normal blood formation.
Provide dietary fibre, which is important for the normal functioning of the intestine.
Also contain lutein, one of the carotenoid family that is involved in normal eye health.