Summer fruit & lime curd pavlova
Summer fruit & lime curd pavlova
Preparation 25 mins | Cooking 6-8 mins in the microwave | Serves 8
Make the lime curd up to a few days before serving so it's ready to serve.
1 large store-bought pavlova
300ml thickened cream
2 tsp icing sugar
sliced mango, blackberries or blueberries, passionfruit pulp and sliced fig, to serve

Lime curd: 125g unsalted butter, chopped
3 free-range eggs, at room temperature
2/3 cup caster sugar
2 tsp finely grated lime rind
¾ cup lime juice (about 5 limes)
Step 1 To make lime curd, place butter into a large microwave safe bowl. Microwave on high for 30-60 seconds until melted. Add eggs, sugar, lime rind and juice. Microwave on medium, whisking every minute, for 5-7 minutes until a smooth thick curd forms. Transfer mixture to an airtight container, cover and refrigerate until cold.
Step 2 Place cream and icing sugar into a bowl. Using an electric hand-mixer, whip cream until soft peaks form.
Step 3 Place pavlova onto a serving platter. Top with whipped cream and lime curd. Decorate with mango, passionfruit pulp, berries and fig and serve. Sprinkle with a extra finely grated lime rind if liked.
Good for you ...
Mangoes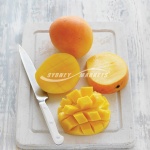 A very good source of vitamin C which contributes to the normal functioning of the body's immune system.
A good source of beta carotene, which the body converts to vitamin A. This vitamin is needed for normal vision. The deeper the colour of the mango flesh, the higher the level of beta carotene. Mango flesh also provides another carotenoid called cryptoxanthin which is being researched for its role in normal eye health.
A source of dietary fibre which is important for the normal function of the intestine.