Summer berry pudding
Prep 20 mins | Cook 5 mins | Serves 8
10 slices (approx.) 2–3 day old rustic white sliced bread, crusts removed
1 cup caster sugar
1⁄2 cup water
500g small strawberries, hulled and halved lengthways
250g blueberries
250g raspberries
Extra berries and thick cream, to serve
Step 1 Lightly grease a 7-cup pudding dish and line the base with a circle of baking paper. Line the base and sides with bread, pressing bread to seal and fill any gaps with pieces of bread.
Step 2 Combine sugar and water in a medium saucepan over medium-high heat. When boiling, add strawberries and cook for 1 minute. Gently stir in blueberries and raspberries and cook for 1–2 minutes until glossy. Drain berries in a sieve over a large bowl to catch berry juices.
Step 3 Spoon drained berries into prepared dish and gently press to smooth surface. Turn bread edges over berries, and top with remaining bread to cover and seal berries. Reserve 2⁄3 cup berry juices and evenly drizzle remaining juice over pudding. Cover with a circle of baking paper. Line with a tight fitting plate or cake tin, top with heavy canned food (or similar weights) and refrigerate overnight. Refrigerate reserved berry juice in an airtight container until ready to serve.
Step 4 To serve, carefully run a blunt knife around edge of pudding and turn out onto a serving plate. Drizzle with reserved berry juices. Decorate with extra berries and serve with thick cream.
Good for you ...
Strawberries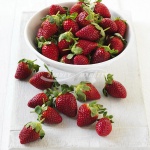 A good source of vitamin C which contributes to formation of collagen and thus plays a role in healthy gums, teeth, bones, cartilage and skin.
A source of folate, a B vitamin needed for normal blood formation.
Provide dietary fibre, which is important for the normal functioning of the intestine.
Also contain lutein, one of the carotenoid family that is involved in normal eye health.