Strawberry swirl yoghurt & banana sundaes
Strawberry swirl yoghurt & banana sundaes
Prep 15 mins | Makes 4
These delicious sundaes are terrific for a leisurely weekend breakfast.
375g strawberries, hulled
1 tbs caster sugar
2 cups reduced fat thick Greek-style yoghurt
2 ripe bananas
¾ cup granola or toasted muesli
Step 1 Place 250g strawberries and sugar into a high-powered blender. Blend, stirring if necessary, until roughly pureed. Place yoghurt into a bowl. Swirl the pureed strawberries through yoghurt.
Step 2 Peel and slice bananas. Slice remaining strawberries. Layer strawberry yoghurt, granola or toasted muesli, bananas and strawberries in serving glasses and serve.
Good for you ...
Strawberries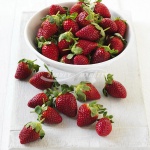 A good source of vitamin C which contributes to formation of collagen and thus plays a role in healthy gums, teeth, bones, cartilage and skin.
A source of folate, a B vitamin needed for normal blood formation.
Provide dietary fibre, which is important for the normal functioning of the intestine.
Also contain lutein, one of the carotenoid family that is involved in normal eye health.