Strawberry swirl ice-cream with peach & mango
Strawberry swirl ice-cream with peach & mango
Prep 20 mins | Serves 4
Serve any leftover ice-cream with fresh fruits.
1 litre reduced-fat vanilla ice-cream
250g strawberries, hulled
2 tbs icing sugar
To serve
1 ripe mango
2 ripe peaches
To make strawberry swirl ice-cream:
Step 1 Remove ice-cream from freezer, place in a large bowl and leave at room temperature to slightly defrost.
Step 2 Meanwhile, place strawberries and icing sugar in a food processor and blend until smooth. Swirl strawberry mixture through ice-cream. Place in an airtight container and freeze for 3–4 hours until firm.
To serve:
Step 3 Cut cheeks from mango, peel and cut flesh into cubes. Halve, deseed and chop peaches. Layer fruit and scoops of strawberry swirl ice-cream in serving glasses.
Good for you ...
Strawberries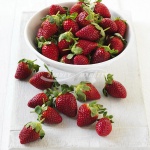 A good source of vitamin C which contributes to formation of collagen and thus plays a role in healthy gums, teeth, bones, cartilage and skin.
A source of folate, a B vitamin needed for normal blood formation.
Provide dietary fibre, which is important for the normal functioning of the intestine.
Also contain lutein, one of the carotenoid family that is involved in normal eye health.