Strawberry, apple & pear breakfast sundae
Strawberry, apple & pear breakfast sundae
Prep 20 mins | Cook 7 mins + cooling time | Serves 6
2 Granny Smith apples
2 Beurre Bosc pears
2 tbs caster sugar
250g strawberries, hulled and halved lengthways
To Serve
Reduced fat vanilla bean yoghurt, to serve
Granola or toasted muesli, to serve
STEP 1 Peel, core and dice apples and pears. Place into a medium shallow microwave-safe dish. Sprinkle with sugar and toss to combine. Cover and microwave on high for 5-7 minutes until tender.
STEP 2 Carefully uncover, and toss through strawberries. Microwave for 30 seconds. Set aside to cool (leave covered). When cool, transfer to an airtight container and refrigerate until ready to serve.
STEP 3 To serve, layer vanilla yoghurt, strawberry, apple and pear mixture with cereal or muesli in serving glasses.
Good for you ...
Strawberries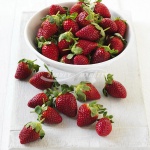 A good source of vitamin C which contributes to formation of collagen and thus plays a role in healthy gums, teeth, bones, cartilage and skin.
A source of folate, a B vitamin needed for normal blood formation.
Provide dietary fibre, which is important for the normal functioning of the intestine.
Also contain lutein, one of the carotenoid family that is involved in normal eye health.