Strawberry & rhubarb crumbles
Strawberry & rhubarb crumbles
Prep 20 mins | Cook 20-25 mins | Serves 4
Butter or margarine, for greasing
1 large bunch rhubarb*, trimmed
250g strawberries, hulled and halved
11⁄2 tbs caster sugar
1⁄3 cup plain flour
1⁄4 cup brown sugar
50g butter, chopped
Greek-style yoghurt, custard or ice-cream, to serve
* You'll need about 400g of trimmed rhubarb stems
Step 1 Preheat oven to 180°C/160°C fan-forced. Grease 4 teacups or 4 x 1 cup ovenproof ramekins with butter and place on a baking tray lined with baking paper.
Step 2 Wash rhubarb well in cold water. Cut into 1⁄2cm-thick slices and place in a bowl. Add strawberries and caster sugar. Toss to combine. Place fruit in prepared cups or ramekins.
Step 3 To make crumble, combine flour and brown sugar in a bowl. Rub in butter until coarse crumbs form. Sprinkle crumble over fruit. Bake for 20-25 minutes until fruit is tender and crumble is golden. Serve with Greek yoghurt, custard or ice-cream.
Good for you ...
Strawberries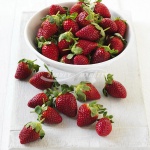 A good source of vitamin C which contributes to formation of collagen and thus plays a role in healthy gums, teeth, bones, cartilage and skin.
A source of folate, a B vitamin needed for normal blood formation.
Provide dietary fibre, which is important for the normal functioning of the intestine.
Also contain lutein, one of the carotenoid family that is involved in normal eye health.