Strawberry & marshmallow sticks with strawberry yoghurt
Strawberry & marshmallow sticks with strawberry yoghurt
Prep 15 mins | Cook 10 mins | Serves 4
500g medium strawberries, hulled
8 white marshmallows
3 tsp icing sugar
11⁄2 cups thick reduced fat natural yoghurt
Step 1 Soak 8 x 15cm bamboo skewers in cold water for 10 minutes. Thread a strawberry then a marshmallow and another strawberry onto each skewer.
Step 2 To make strawberry yoghurt, chop remaining strawberries, place in small saucepan with 2 tsp icing sugar. Cook, stirring occasionally, until soft and beginning to caramelise. Transfer to a small heatproof bowl. Cover and chill. Once cool, swirl strawberries through yoghurt.
Step 3 Heat a non-stick frying pan over medium heat. Dust strawberry skewers with remaining 1 tsp icing sugar. Heat skewers, turning occasionally, until marshmallows begin to melt. Serve with strawberry yoghurt.
Good for you ...
Strawberries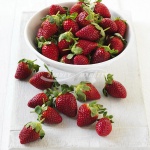 A good source of vitamin C which contributes to formation of collagen and thus plays a role in healthy gums, teeth, bones, cartilage and skin.
A source of folate, a B vitamin needed for normal blood formation.
Provide dietary fibre, which is important for the normal functioning of the intestine.
Also contain lutein, one of the carotenoid family that is involved in normal eye health.