Strawberry & blood orange zabaglione
Strawberry & blood orange zabaglione
Prep 20 mins | Cook 10 mins | Serves 6
6 blood oranges, peeled and segmented
500g small strawberries, hulled and halved
Blood orange zabaglione
4 free range egg yolks (at room temperature)
1⁄3 cup caster sugar
1⁄3 cup strained blood orange juice (approx. 2 blood oranges)
Step 1 Combine blood orange segments and strawberries in a bowl. Spoon evenly into 6 serving glasses. Set aside.
Step 2 To make blood orange zabaglione, place egg yolks and sugar in a medium heatproof mixing bowl. Using a hand-held electric beater, beat on high for 3 minutes until mixture is thick and creamy. Place the bowl over a saucepan of simmering water over medium-low heat (ensuring bowl does not touch water) and beat mixture on high speed for 4-5 minutes until thick and warmed through. Gradually whisk in orange juice. Beat for a further 2-3 minutes over simmering water until mixture resembles lightly whipped cream. Remove bowl from heat and place base of bowl into cold water for 1 minute.
Step 3 Spoon warm zabaglione over fruit in serving glasses and serve immediately.
Good for you ...
Strawberries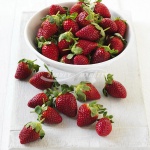 A good source of vitamin C which contributes to formation of collagen and thus plays a role in healthy gums, teeth, bones, cartilage and skin.
A source of folate, a B vitamin needed for normal blood formation.
Provide dietary fibre, which is important for the normal functioning of the intestine.
Also contain lutein, one of the carotenoid family that is involved in normal eye health.