Strawberries with ricotta French toast sandwiches
Strawberries with ricotta French toast sandwiches
Prep 20 mins | Cook 5 mins | Serves 4
It's best to use day-old baguette bread for this recipe.
200g fresh ricotta cheese
1⁄2 tsp vanilla extract
1⁄4 cup caster sugar
8 x 1/2cm-thick slices baguette bread (cut on the diagonal)
2 eggs (at room temperature)
1⁄2 cup milk
2 tbs butter or margarine
500g strawberries, hulled and thickly sliced
Honey or maple syrup, to serve
Step 1 Beat ricotta, vanilla and 1 tbs sugar in a bowl until smooth. Spoon mixture over 4 slices of baguette bread. Top with remaining bread.
Step 2 Whisk eggs, milk and remaining 2 tbs sugar in a bowl. Heat butter or margarine in a large non-stick frying pan over medium heat. Gently dip sandwiches into beaten eggs to coat and cook for 2-3 minutes on each side until golden.
Step 3 Place on serving plates. Top with sliced strawberries, drizzle with honey or maple syrup and serve.
Good for you ...
Strawberries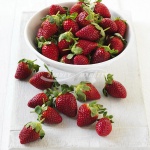 A good source of vitamin C which contributes to formation of collagen and thus plays a role in healthy gums, teeth, bones, cartilage and skin.
A source of folate, a B vitamin needed for normal blood formation.
Provide dietary fibre, which is important for the normal functioning of the intestine.
Also contain lutein, one of the carotenoid family that is involved in normal eye health.