Strawberries & rhubarb with French toast
Strawberries & rhubarb with French toast
Prep 20 mins | Cook 25 mins | Serves 4
1 bunch rhubarb (about 250g-300g trimmed rhubarb stems)
1⁄4 cup caster sugar
250g strawberries, hulled and large strawberries halved
3 free-range eggs
3⁄4 cup reduced fat milk
1⁄4 cup caster sugar
1⁄2 tsp vanilla extract
50g butter or margarine
8 slices sweet brioche bread or sourdough white bread
STEP 1 Preheat oven to 180°C/160°C fan-forced. Line a baking tray with baking paper. Trim and discard rhubarb leaves. Wash stems, pat dry and cut into 6-7cm lengths. Place rhubarb and 2 tbs sugar into a bowl. Toss to combine.
STEP 2 Arrange rhubarb in a single layer on tray. Roast for 10-12 minutes (depending on thickness) until almost tender. Toss strawberries with remaining 1 tbs sugar. Stir strawberries through rhubarb. Roast for 5 minutes or until warm. Set aside to cool.
STEP 3 To make French toast, whisk eggs, milk, sugar and vanilla in a medium jug until well combined. Pour into a medium shallow dish. Heat a large non-stick frying pan over medium heat, and add half the butter and heat until sizzling. Dip 4 slices bread in egg mixture for 20 seconds on each side. Pan-fry for 2 minutes on each side or until light golden. Transfer to a plate and keep warm in oven. Repeat using remaining ingredients. Serve rhubarb and strawberries with warm French toast.
Good for you ...
Strawberries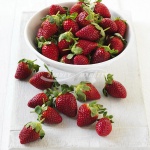 A good source of vitamin C which contributes to formation of collagen and thus plays a role in healthy gums, teeth, bones, cartilage and skin.
A source of folate, a B vitamin needed for normal blood formation.
Provide dietary fibre, which is important for the normal functioning of the intestine.
Also contain lutein, one of the carotenoid family that is involved in normal eye health.