Stir-fried greens & chicken with sweet soy & peanuts
Stir-fried greens & chicken with sweet soy & peanuts
Preparation 25 mins | Cooking 10 mins | Serves 4
1 tbs peanut oil
600g free-range chicken thigh fillets, cut into thin strips
2 long red chillies, deseeded and thinly sliced diagonally
2 sticks celery, thinly sliced
2 bunches broccolini or baby broccoli, trimmed and cut into 3
4 green onions (shallots), trimmed and cut into 4cm lengths
2 garlic cloves, finely chopped
1 small bunch (about 200g leaves) Cavolo Nero (Tuscan Kale), stems trimmed and roughly chopped
1 large carrot, shredded
Step 1 Heat oil in a wok over high heat. Stir-fry chicken, in batches, for 2-3 minutes until golden and almost cooked through. Transfer to a plate.
Step 2 Add chillies, celery and broccolini to the wok. Stir fry for 2 minutes. Toss through green onions and garlic and stir-fry for 1 minute. Add cavalo nero, carrot and 2 tbs water. Toss to combine, cover and cook for 2 minutes. Add sweet soy & peanut sauce and chicken and stir-fry until hot. Serve with steamed rice and extra chopped peanuts.
Good for you ...
Broccolini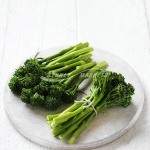 An excellent source of vitamin C, one of the vitamins that contributes to the body's immune function.
A good source of beta carotene, which the body converts to vitamin A. This vitamin is necessary for the structure and function of our skin and also for normal vision.
Provides folate, one the B vitamins needed for normal blood as well as growth and development in children.
A good source of dietary fibre, which is important for maintaining the function of the intestine.