Stewed winter fruit with honey
Stewed winter fruit with honey
Prep 20 mins | Cook 35 mins | Serves 8
3 medium Granny Smith apples, peeled, cored and chopped
2 Beurre Bosc pears, peeled, cored and chopped
1 bunch rhubarb, trimmed and sliced
1⁄4 cup caster sugar
1 tsp ground cinnamon
1 tbs lemon juice
2 tbs honey
Step 1 Place apples, pears, rhubarb, sugar, cinnamon, lemon juice and honey in a medium saucepan. Stir to combine. Cover and bring to the boil over medium heat, stirring occasionally with a wooden spoon to break up fruit.
Step 2 Reduce heat to medium-low and simmer for 20-25 minutes until fruit is tender. Remove from heat, uncover and set aside to cool slightly. Serve warm or cold.
Serving suggestions
Serve with hot porridge and a drizzle of honey for breakfast.
Serve over toasted waffles with ice-cream for dessert.
Serve layered with reduced fat custard in serving glasses for dessert.
Good for you ...
Rhubarb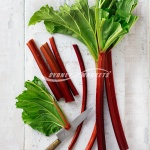 A source of dietary fibre which helps keep the normal function of the intestine.
Provides vitamin C, which contributes to the normal functioning of the body's immune system.
A source of potassium which may help balance the effects of sodium from salt.