Steamed spring vegetables with ginger & soy dressing
Steamed spring vegetables with ginger & soy dressing
Prep 20 mins | Cook 10 mins | Serves 4 as a side dish
1 bunch asparagus, trimmed
1 small head broccoli, trimmed and cut into florets
150g snow peas, trimmed
150g sugar snap peas, trimmed
Ginger & soy dressing
1 tbs peanut oil
2 garlic cloves, finely chopped
2cm piece ginger, peeled and finely chopped
1⁄4 cup salt reduced soy sauce
2 tbs mirin
1 tsp caster sugar
1 tsp sesame oil
Step 1 To make ginger & soy dressing, heat oil in a frying pan over medium heat. Add garlic and ginger and cook for 1 minute. Add soy sauce, mirin, sugar and sesame oil. Stir to combine and bring to the boil. Reduce heat to low and simmer for 1 minute.
Step 2 Meanwhile, place asparagus and broccoli in a steamer basket over a wok or large saucepan of simmering water. Cover and steam for 3 minutes. Add snow peas and sugar snap peas, cover and steam for 1-2 minutes until vegetables are vibrant and just crisp.
Step 3 Arrange steamed vegetables on a serving platter. Drizzle with warm ginger and soy dressing and serve immediately.
Good for you ...
Broccoli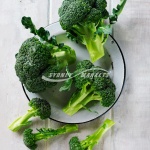 Top of the class for its content of many nutrients, including iron (contributes to red blood cells), potassium (helps balance the sodium from salt) and vitamins, including vitamin C (necessary for normal blood vessel structure and function and contributes to collagen formation in teeth and gums.