Sri Lankan chilli pineapple with chicken skewers
Sri Lankan chilli pineapple with chicken skewers
Prep 20 mins | Cook 20 mins | Serves 4
750g free-range chicken thigh fillets, cut into 2-3 cm pieces
1 tbs coconut or vegetable oil (+ extra for brushing)
1 small red onion, chopped
1 medium pineapple, peeled, trimmed and cut into 1-2cm dice (about 3 cups diced pineapple)
2 long red chillies, deseeded and chopped
1/4 cup brown sugar
¼ cup water
3 tsp finely grated fresh ginger
1 tsp ground turmeric
4 cardamom pods, crushed
12 curry leaves
Steamed jasmine rice and lime wedges, to serve
Step 1 Thread chicken onto 12 metal or soaked bamboo skewers. Set aside.
Step 2 To make Sri Lankan chilli pineapple, heat oil in a large non-stick frying pan over medium-high heat. Add onion and cook, stirring often, for 2 minutes. Add pineapple and chillies and cook, tossing often, for 2-3 minutes until hot. Add brown sugar, water, ginger, turmeric, cardamom pods and curry leaves. Stir until well combined and bring to the boil. Reduce heat and simmer, stirring occasionally for 15 minutes or until caramelised and golden.
Step 3 Meanwhile, heat a char-grill or barbecue over medium-high heat. Brush chicken with extra oil. Char-grill chicken, turning often, for 10 minutes or until cooked through.
Step 4 Serve chicken skewers with the Sri Lankan chilli pineapple, steamed jasmine rice and lime wedges.
Good for you ...
Pineapple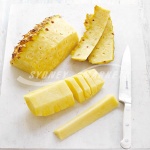 A good source of manganese, a mineral that contributes to the normal formation of bone and connective tissue.
A good source of vitamin C, which contributes to the normal functioning of the body's immune system.
Provides dietary fibre, which helps the intestine function normally.