Spring vegetable & chicken tray bake
Spring vegetable & chicken tray bake
Prep 15 mins | Cook 40 mins | Serves 4
2½ tbs olive oil + extra for brushing
8 chicken thigh cutlets (bone in), excess fat trimmed
6 small zucchini, halved lengthways
1 bunch small spring onions, trimmed and halved lengthways
1 bunch large asparagus, trimmed
3 garlic cloves, crushed
2 tbs rosemary leaves
250g truss mini roma or cherry tomatoes
100g Greek feta cheese, crumbled
Couscous, to serve
Step 1 Preheat oven to 200°C fan-forced. Heat 2 tsp oil in a large non-stick frying pan over medium-high heat. Add chicken skin-side down and cook until skin is golden. Turn and seal chicken on the other side. Drain on paper towel.
Step 2 In a large roasting pan, combine zucchini, spring onions and asparagus. Combine garlic, rosemary and remaining 2 tbs olive oil in a small bowl. Season with salt and pepper. Drizzle mixture over vegetables and toss to coat.
Step 3 Arrange chicken in pan. Roast for 15 minutes. Gently toss vegetables then roast for a further 10 minutes. Brush tomatoes with oil and add to pan. Roast for 8-10 minutes or until chicken is just cooked through and vegetables are tender. Sprinkle with feta and season with pepper. Serve with couscous.
Good for you ...
Asparagus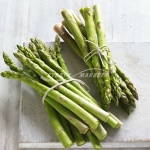 One of the best sources of natural folate. This B complex vitamin is important throughout life for normal function of the immune system. A source of vitamin C which contributes to protecting body cells from damage from free radicals.