Spring fruits with honey & almond ricotta
Spring fruits with honey & almond ricotta
Prep 25 mins | Serves 4-6
Great for a healthy breakfast, brunch or dessert.
300g ricotta cheese
2 tbs honey + extra for drizzling
1⁄3 cup almond kernels, roughly chopped
1⁄2 tsp ground cinnamon
1⁄2 medium papaya, peeled, deseeded and sliced
2 medium bananas, peeled and sliced lengthways
250g large strawberries, hulled
2 oranges, peeled and cut into wedges
2 kiwifruit, peeled and thickly sliced lengthways
Step 1 To make honey & almond ricotta, place ricotta in a medium bowl. Beat until smooth. Add honey, almonds and cinnamon. Stir until well combined. Spoon into a serving bowl. Drizzle with honey.
Step 2 Arrange fruit on a serving platter. Serve with honey and almond ricotta.
Good for you ...
Papaya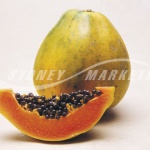 Red-fleshed papaya has higher levels of beta carotene than varieties with paler flesh. The beta carotene is converted into vitamin A in the body and is needed for normal vision.