Spinach, celery & smoked chicken salad
Spinach, celery & smoked chicken salad
Prep 20 mins | Cook 3 mins | Serves 4
1⁄3 cup extra virgin olive oil
1⁄4 cup pine nuts
1 garlic cloves, crushed
2 tbs lime juice
100g baby spinach leaves
3 celery sticks, thinly sliced diagonally
3 green onions (shallots), thinly sliced
350g smoked chicken breast fillets, sliced
100g parmesan cheese, shaved
This salad is also great with sliced avocado tossed through it.
Step 1 Heat oil in a small frying pan over medium heat until sizzling. Add pine nuts and cook, stirring often, for 2–3 minutes until golden. Remove pan from heat and stir in garlic and lime juice. Season with salt and pepper. Set aside.
Step 2 Combine spinach, celery, green onions and chicken in a large bowl. Drizzle with pine nut mixture and gently toss to combine. Spoon into serving bowls, top with parmesan and serve.
Good for you ...
English Spinach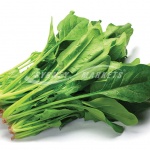 Although the iron in spinach is not well absorbed, its high content of vitamins C, E, beta carotene (converts to vitamin A in the body), niacin (B3), folate, vitamin B6 plus its magnesium and potassium make it one of the most valuable vegetables.
Spinach is rich in an antioxidant called lutein, which is important for eye health.
Spinach is an excellent source of dietary fibre, which keeps the intestine functioning normally.