Spinach & cheese bread-cup quiches
Spinach & cheese bread-cup quiches
Preparation 25 mins | Cooking 30 mins | Makes 12
12 slices wholemeal or white bread
50g butter, softened
Olive oil cooking spray
100g baby spinach leaves
4 free range eggs 1/2 cup milk
2/3 cup finely grated cheddar cheese
12 cherry or mini roma tomatoes, halved
Step 1 Preheat oven to 180°C. Trim crusts from the bread. Place a bread slice onto a board and using a rolling pin, roll out until thin. Lightly spread one side with butter. Place butter-side down into a hole in a 12 x ½ cup capacity muffin pan and press bread to line the hole. Spray with oil. Repeat using remaining bread and oil spray. Bake bread cases for 10 minutes.
Step 2 Meanwhile, place spinach into a heatproof bowl. Pour over boiling water. Stir until wilted. Drain well, squeeze out excess liquid from spinach and roughly chop. Place into a large bowl.
Step 3 Add eggs, milk and 1/3 cup grated cheese to spinach. Mix until well combined. Evenly spoon mixture into the bread cases. Top each with 2 tomato halves. Sprinkle with remaining cheese. Bake for 20-25 minutes or until just set. Stand in pan for 5 minutes and serve.
Step 4 Toast buns. Spread toasted bun bases with mayonnaise. Top with lettuce, cucumber, and a veggie pattie. Drizzle with a little extra mayonnaise and a slice of tomato. Top with bun tops and serve.
Good for you ...
Baby Leaves Spinach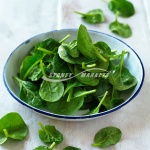 Although the iron in spinach is not well absorbed, its high content of vitamins C, E, beta carotene (converts to vitamin A in the body), niacin (B3), folate, vitamin B6 plus its magnesium and potassium make it one of the most valuable vegetables
Spinach is rich in an antioxidant called lutein, which is important for eye health.
Spinach is an excellent source of dietary fibre, which keeps the intestine functioning normally.