Spicy roasted potato wedges with avocado dip
Spicy roasted potato wedges with avocado dip
Prep 25 mins | Cook 55 mins | Serves 4
1 kg large Sebago or King Edward potatoes
2 tbs olive oil
2 tsp tabasco sauce
1 tsp ground cumin
1 tsp ground coriander
2 tbs lime juice
Reduced fat light sour cream, to serve
Avocado dip
2 medium ripe avocados
2 tbs lime juice
Salt and ground black pepper
Step 1 Preheat oven to 220°C/200°C fan-forced. Line 2 baking trays with baking paper. Scrub potatoes and cut lengthways into 1-2cm thick wedges. Place onto a clean tea towel and pat dry.
Step 2 Combine oil, tabasco, cumin, coriander and lime juice in a large bowl. Add potatoes and toss well to coat in mixture. Place wedges, skin side down, in a single layer on baking trays. Bake, turning once, for 50-55 minutes until crisp and golden.
Step 3 Meanwhile, to make avocado dip, peel, deseed and chop avocados. Place into a bowl. Add lime juice. Using a fork, mash until smooth. Season with salt and pepper to taste. Serve avocado dip with wedges and sour cream.
Good for you ...
King Edward Potatoes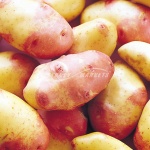 A source of vitamin C, a vitamin that contributes to the normal structure and function of blood vessels throughout the body.
A source of dietary fibre, especially if the skin is left on. Dietary fibre contributes to normal laxation. The skin of potatoes also helps retain vitamins during cooking.
Provides potassium which may help balance sodium from salty foods.