Spicy kiwifruit salsa with five spice chicken
Spicy kiwifruit salsa with five spice chicken
Prep 20 mins | Cook 8 mins | Serves 4
Spicy kiwifruit salsa:
3 firm kiwifruit, peeled and chopped into a fine dice
2 green onions (shallots), trimmed and very thinly sliced
1 small bird's eye red chilli, deseeded and finely chopped
½ cup coriander leaves, finely chopped
2 tbs lime juice
1 tsp fish sauce
8 free-range chicken thigh fillets, trimmed
1 tbs olive oil
1 tsp Chinese five spice
Lime wedges, coriander leaves and steamed jasmine rice, to serve
Step 1 To make the spicy kiwifruit salsa, place all ingredients into a bowl. Stir to combine. Stand for 15 minutes.
Step 2 Meanwhile, place chicken between two sheets of baking paper and using a rolling pin flatten the chicken to about 2cm thick. Brush chicken with oil then sprinkle with Chinese five spice. Season with salt and pepper.
Step 3 Heat a char-grill pan over medium-high heat. Char-grill chicken for 3-4 minutes on each side until golden and cooked through.
Step 4 Slice chicken. Serve with spicy kiwifruit salsa, lime wedges, coriander leaves and steamed jasmine rice.
Good for you ...
Green Kiwifruit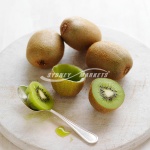 A very good source of vitamin C which contributes to the formation of collagen and its role in healthy gums, teeth, cartilage, bones and skin. One 65g kiwi fruit contains a day's recommended intake of vitamin C.
A good source of dietary fibre, which helps the intestine's normal function.
Provides vitamin E which helps protect the body's cells from damage due to free radicals.