Spicy broccoli & chilli soup
Spicy broccoli & chilli soup
Prep 20 mins | Cook 25 mins | Serves 4
2 tbs olive oil
1 brown onion, chopped
2 garlic cloves, crushed
2 small red chillies, deseeded and finely chopped
4 cups chicken or vegetable stock
1 kg broccoli, trimmed and roughly chopped
Toasted Turkish bread, to serve
Extra chopped red chilli, to serve (optional)
Step 1 Heat oil in a large saucepan over medium heat. Add onion, garlic and chillies and cook, stirring occasionally, for 3–4 minutes until onion is tender.
Step 2 Stir in stock, cover and bring to the boil over medium-high heat. Add broccoli. Reduce heat, cover and simmer, stirring occasionally, for 15 minutes or until broccoli is tender.
Step 3 Remove from heat. Using a hand blender or food processor, blend soup to desired consistency. Stir soup over medium heat until hot. Season with salt and pepper to taste. Serve with toasted Turkish bread. Sprinkle with chopped red chilli if liked.
Good for you ...
Broccoli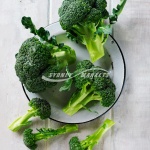 Top of the class for its content of many nutrients, including iron (contributes to red blood cells), potassium (helps balance the sodium from salt) and vitamins, including vitamin C (necessary for normal blood vessel structure and function and contributes to collagen formation in teeth and gums.