Spiced baby spinach with currants & cream
Spiced baby spinach with currants & cream
Prep 15 mins | Cook 25 mins | Serves 4 as a side dish
This dish is great served with chicken or lamb.
2 tbs olive oil
2 medium brown onions, halved and thinly sliced
2 garlic cloves, crushed
1 tsp ground cumin
1⁄2 tsp ground coriander
1⁄3 cup currants
1⁄2 cup chicken or vegetable stock
300g baby spinach leaves
1⁄3 cup reduced fat thickened cream
Salt and ground black pepper
Step 1 Heat oil in a large non-stick frying pan over medium heat. Add onions and cook, stirring often, for 8-10 minutes until tender and golden. Add garlic, cumin and coriander and cook, stirring often for 1-2 minutes until fragrant.
Step 2 Stir in currants and stock. Bring to the boil over medium heat. Add spinach in batches, tossing until leaves begin to wilt. When all spinach is added, cook, tossing often, over medium heat for 2-3 minutes until hot. Stir in cream and heat until hot. Season with salt and pepper and serve.
Good for you ...
Baby Leaves Spinach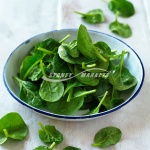 Although the iron in spinach is not well absorbed, its high content of vitamins C, E, beta carotene (converts to vitamin A in the body), niacin (B3), folate, vitamin B6 plus its magnesium and potassium make it one of the most valuable vegetables
Spinach is rich in an antioxidant called lutein, which is important for eye health.
Spinach is an excellent source of dietary fibre, which keeps the intestine functioning normally.