Spanish vegetable & chorizo soup
Spanish vegetable & chorizo soup
Prep 30 mins | Cook 1hr | Serves 6
2 tbs olive oil
1 brown onion, finely chopped
2 garlic cloves, finely chopped
1 tsp ground paprika
2 medium carrots, peeled and cut into 1cm dice
2 sticks celery, trimmed and thinly sliced
2 medium (about 300g) zucchinis, diced
1 small red capsicum, halved, deseeded and diced
1 (about 200g) Desiree potato, peeled and diced
400g can diced tomatoes
5 cups chicken stock
1⁄3 cup flat-leaf parsley leaves, roughly chopped
1 tbs lemon juice
2 (250g) chorizo sausages, diced
Step 1 Heat 11⁄2 tbs oil in a large saucepan over medium heat. Add onion and garlic and cook, stirring often, over medium heat for 5 minutes until onion is tender. Add paprika and cook for 1 minute. Add carrots, celery, zucchinis, capsicum and potato. Cook, stirring often, for 10 minutes.
Step 2 Add tomatoes and stock. Cover and bring to the boil. Reduce heat and simmer, stirring occasionally, for 35-40 minutes until vegetables are tender. Add parsley and lemon juice. Season with salt and pepper.
Step 3 Heat remaining 2 tsp oil in a small frying pan over medium-high heat. Add chorizo and cook, stirring often, for 3 minutes until crisp. Transfer to a plate lined with paper towel. Stir half the chorizo through the soup. Ladle soup into bowls, top with remaining chorizo and serve.
Good for you ...
Celery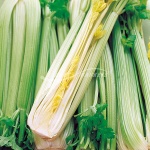 A source of vitamin C, one of the vitamins that contributes to a healthy immune system.
Provides potassium, which may help balance the effects of sodium from salt.
The distinctive fresh smell of celery comes from compounds called phthalides.