Snow pea, avocado & turkey salad
Snow pea, avocado & turkey salad
Prep 15 mins | Cook 30 secs | Serves 4
200g snow peas, trimmed
1 medium ripe avocado
1⁄2 small iceberg lettuce leaves, roughly torn
2 small Lebanese cucumbers, cut into small sticks
200g sliced roasted turkey
Wholegrain sliced bread, to serve
Red currant dressing
2 tbs red currant jelly
1⁄3 cup reduced fat Greek-style natural yoghurt
1 tbs reduced fat mayonnaise
1 tbs lemon juice
To serve
Reduced fat vanilla bean yoghurt, to serve
Granola or toasted muesli, to serve
STEP 1 Bring a small saucepan of water to the boil over high heat. Plunge snow peas into the pan and cook for 30 seconds. Drain and refresh in cold water. Dry with paper towel.
STEP 2 To make red currant dressing, combine all ingredients in a bowl or jar. Season with salt and pepper and whisk until well combined.
STEP 3 Peel, halve lengthways and deseed avocado. Cut lengthways into edges. Arrange avocado, snow peas, lettuce, cucumbers and turkey on a serving platter or individual serving plates. Serve with red currant dressing and wholegrain sliced bread.
Good for you ...
Snow Peas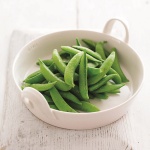 A good source of vitamin C, which contributes to the normal functioning of the body's immune system.
Provide dietary fibre, which is needed for normal laxation.
Provide niacin (Vitamin B3) which is needed for the normal release of energy from food.
A source of potassium, which may help balance the adverse effects of sodium from salt.