Slow-cooker orange spiced quince
Slow-cooker orange spiced quince
Prep 30 mins | Cook 6 hrs | Serves 8
½ cup caster sugar
3 cups water
Rind of 1 orange
½ cup freshly-squeezed orange juice
¼ cup maple syrup
2 cinnamon sticks
2 whole cloves
1 tsp vanilla extract
1.8kg quinces
Juice of 1 lemon
Thick Greek-style natural yoghurt, to serve
Step 1 Preheat a 5.5 litre slow-cooker on high. Combine sugar, water, orange rind and juice, maple syrup, cinnamon sticks, cloves and vanilla in the slow cooker.
Step 2 Peel, quarter and core quinces one at a time. Immediately drizzle with lemon juice (to prevent discolouration) and add prepared quinces to the slow cooker. Cook on high, turning quinces a few times, for 5 hours or until quinces are tender and a deep amber in colour. Leave the quinces to cool to room temperature in the slow cooker.
Step 3 Serve with thick Greek yoghurt for dessert. Store leftover cooked quinces in an airtight container in the fridge for up to 1 week.
Good for you ...
Quince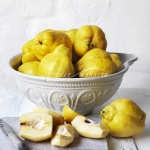 A very good source of dietary fibre, which is important for the normal functioning of the intestine.
A very good source of vitamin C. This vitamin contributes to the formation of collagen which plays a role in healthy gums, teeth, cartilage, bones and skin.
Provide potassium which may help balance the effects of sodium from salt.