Shemeji mushroom & choy sum miso noodle soup
Shemeji mushroom & choy sum miso noodle soup
Preparation 20 mins | Cooking 12 mins | Serves 4
250g dried pad-thai rice noodles
2 tbs peanut or vegetable oil
250g firm tofu, cut into cubes
8 cups reduced salt chicken or vegetable stock
¼ cup white miso
1 tbs reduced salt soy sauce
150g Shemeji mushrooms, break up clusters into bite-sized pieces
2 small bunches baby choy sum, trimmed
Shredded green onions (shallots), shredded nori (paper-thin Japanese seaweed) and black mustard seeds, to serve
Step 1 Place noodles into a large heatproof bowl. Cover with boiling water and stand for 5 minutes or until just tender. Drain and set aside.
Step 2 Heat oil in a large saucepan pan over medium-high heat. Add tofu and cook, turning often, until pale golden. Drain on paper towel. Set aside.
Step 3 Add stock to the saucepan and heat over medium heat. Add miso and soy sauce and stir until combined. Bring to the boil, add mushrooms and choy sum and cook for 1-2 minutes until just tender.
Step 3 Arrange noodles in 4 deep serving bowls. Top with tofu, mushrooms and choy sum. Ladle over the hot miso broth. Top with green onions, shredded nori and black sesame seeds.
Good for you ...
Choy Sum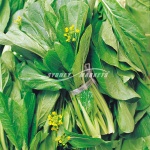 Good source of folate, beta carotene and vitamin C. Folate (one of the B vitamins) contributes to normal blood cells; beta carotene is converted to vitamin A and is important for good vision while vitamin C's functions include formation of a vital substance in bones, teeth, gums, blood capillaries.
Provides some iron, which is important for making red blood cells.