Sauteed greens with eggs, mint & feta
Sauteed greens with eggs, mint & feta
Prep 15 mins | Cook 15 mins | Serves 4
This delicious dish is great for breakfast, brunch or an easy light dinner.
1 1/2 tbs olive oil
3 green onions (shallots), trimmed and thinly sliced
1 long green chilli, deseeded and finely chopped
2 garlic cloves, finely chopped
1 tsp ground cumin
1 tsp ground smokey paprika
3 cups (about 60g) shredded trimmed kale leaves
300g washed and trimmed English spinach leaves, roughly chopped
4 free-range eggs, at room temperature
50g feta, crumbled
¼ cup small mint leaves
Grilled sourdough bread and dukkah, to serve
Step 1 Heat oil in a large heavy-based (about 23cm base) frying pan over medium heat. Add green onions, chilli and garlic and cook, stirring, for 1 minute. Stir in cumin and paprika and cook, stirring, for 1 minute or until fragrant.
Step 2 Add kale to pan and sprinkle with 1 tbs water. Cook, tossing constantly, until wilted. Gradually, add the spinach and toss until just wilted. Cover, reduce heat and simmer for 2 minutes. Make 4 indentations into the vegetable mixture. Crack an egg into each, cover and cook for 4-5 minutes until eggs are almost set (or cooked to your liking).
Step 3 Scatter with feta and mint. Serve with grilled sourdough bread and dukkah.
Good for you ...
English Spinach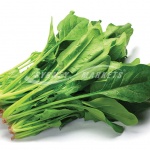 Although the iron in spinach is not well absorbed, its high content of vitamins C, E, beta carotene (converts to vitamin A in the body), niacin (B3), folate, vitamin B6 plus its magnesium and potassium make it one of the most valuable vegetables.
Spinach is rich in an antioxidant called lutein, which is important for eye health.
Spinach is an excellent source of dietary fibre, which keeps the intestine functioning normally.