Satay broccoli, pork & noodle stir-fry
Satay broccoli, pork & noodle stir-fry
Prep 15 mins | Cook 10 mins | Serves 4
300g fresh thin hokkien noodles
2 tbs peanut oil
350g pork fillet, trimmed and cut into bite-sized pieces
250g broccoli, trimmed and cut into small florets
2 celery sticks, thinly sliced
1 carrot, shredded or coarsely grated
1⁄2 cup mild satay sauce
1⁄4 cup chicken stock or water
1 cup bean sprouts, trimmed
Step 1 Place noodles into a heatproof bowl. Cover with boiling water and stand for 2 minutes or until noodles are just tender. Drain and set aside.
Step 2 Heat 1 tbs oil in a wok over high heat. Add pork and stir-fry for 3-4 minutes until golden and almost cooked through. Transfer to a plate.
Step 3 Heat remaining 1 tbs oil in wok. Add broccoli, celery, carrot, satay sauce, stock or water and stir-fry for 2-3 minutes until broccoli is just tender. Add bean sprouts, noodles and pork. Toss over heat until well combined and noodles are hot and serve.
Good for you ...
Broccoli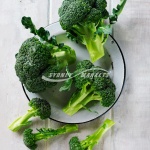 Top of the class for its content of many nutrients, including iron (contributes to red blood cells), potassium (helps balance the sodium from salt) and vitamins, including vitamin C (necessary for normal blood vessel structure and function and contributes to collagen formation in teeth and gums.