Rosemary, garlic & parmesan potato wedges
Rosemary, garlic & parmesan potato wedges
Prep 15 mins | Cook 50 mins | Serves 4
These crisp golden wedges team well with a roast.
1 kg large Desiree potatoes
¼ cup olive oil
¼ cup rosemary leaves
5 garlic cloves, finely chopped
¾ cup freshly-grated parmesan cheese
Step 1 Preheat oven to 200°C fan-forced. Wash and dry potatoes. Cut potatoes lengthways into 2-3cm-thick wedges. Place potatoes into a large bowl. Drizzle with oil, sprinkle with rosemary, garlic and parmesan. Season with sea salt and pepper. Toss to combine.
Step 2 Place potatoes, skin-side down and evenly spaced, in a single layer on 2 large baking trays lined with baking paper. Bake for 50-55 minutes or until golden and tender. Serve.
Good for you ...
Desiree Potatoes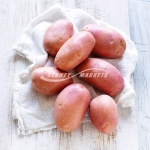 A source of vitamin C, a vitamin that contributes to the normal structure and function of blood vessels throughout the body.
A source of dietary fibre, especially if the skin is left on. Dietary fibre contributes to normal laxation. The skin of potatoes also helps retain vitamins during cooking.
Provides potassium which may help balance sodium from salty foods.