Rockmelon 'carpaccio' & haloumi salad
Rockmelon 'carpaccio' & haloumi salad
Prep 20 mins | Cook 3 mins | Serves 4 (as a starter or side)
This is a great combination of flavours and makes the perfect light starter on a warm day. It's also delicious served with grilled fish or chicken.
½ large rockmelon
1 tbs lemon juice
½ tsp dried chilli flakes
200g haloumi, sliced
½ small red onion, peeled and very thinly sliced
½ cup small mint leaves
¼ cup pistachios, chopped
Step 1 Peel and deseed rockmelon. Using a V-slicer or sharp knife, very thinly slice rockmelon. Toss rockmelon with lemon juice and chilli flakes in a bowl. Set aside.
Step 2 Heat oil in a large frying pan over medium-high heat. Add haloumi and cook, turning once, for 1-2 minutes until hot and golden. Drain on paper towel.
Step 3 Arrange rockmelon on a serving platter. Top with haloumi and sprinkle with red onion, mint and pistachios. Season with black pepper, drizzle with extra virgin olive oil and serve.
Good for you ...
Rockmelons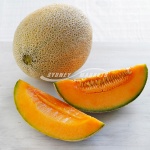 A source of beta carotene, which the body converts to vitamin A. This vitamin is needed for normal vision.
A good source of vitamin C which contributes to the normal functioning of the body's immune system.
Provides potassium which may help balance the effects of sodium from salt.