Rockmelon & turkey salad
Prep 20 mins | Serves 4
This is a great salad to use leftover Christmas turkey.
75g baby salad leaves
1⁄2 medium rockmelon, peeled and thinly sliced
500g roasted turkey breast, thinly sliced
100g soft goat's curd or Persian feta
Micro-herbs*, to serve (optional)
Grilled sourdough bread, to serve
Cranberry dressing
1 tbs cranberry sauce
1 tbs caramelised balsamic vinegar
1 tsp lemon or lime juice
1⁄3 cup grape seed or olive oil
*Micro-herbs are tiny baby herbs sold by the punnet in greengrocers. Simply snip the herbs with scissors.
Step 1 Arrange salad leaves, rockmelon and turkey on a serving platter. Dollop with goat's curd or Persian feta. Season with salt and pepper.
Step 2 To make dressing, combine all ingredients in a screw-top jar. Shake until well combined. Drizzle dressing over salad and sprinkle with micro-herbs if using. Serve with grilled sourdough bread.
Good for you ...
Rockmelons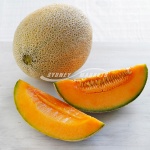 A source of beta carotene, which the body converts to vitamin A. This vitamin is needed for normal vision.
A good source of vitamin C which contributes to the normal functioning of the body's immune system.
Provides potassium which may help balance the effects of sodium from salt.