Rocket pesto linguine
Prep 15 mins | Cook 12 mins | Serves 4
Rocket pesto:
1/3 cup blanched almonds
1 garlic clove, peeled
75g rocket leaves
25g baby spinach leaves
1/3 cup extra virgin olive oil
¼ cup grated parmesan
400g dried linguine pasta
Rocket leaves and grated parmesan, to serve
Step 1 To make the rocket pesto, place almonds and garlic into a food processor. Process until coarsely chopped. Add rocket and spinach. Process, drizzling the oil through the feed tube until mixture is smooth. Stir through parmesan. Season with salt and pepper to taste. Set aside.
Step 2 Cook pasta in a large saucepan of boiling water, following packet directions, until al dente. Drain pasta and return to the saucepan.
Step 3 Add rocket pesto to the pasta. Toss over low heat until combined. Spoon pasta onto serving plates. Top with rocket leaves and grated parmesan and serve.
Good for you ...
Rocket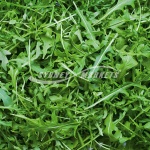 A source of vitamin C, folate, vitamin Ki) and beta carotene, which the body converts to vitamin A. Vitamin C contributes to collagen formation which is important in bones, teeth, gums and the skin. Folate is one of the B vitamins that is needed for formation of blood cells and normal cell division while vitamin K is needed for normal blood coagulation after an injury. Vitamin A is essential for normal vision.
Provides calcium, iron and potassium. Calcium is important for bone structure; iron is needed for normal blood cells while potassium can help balance the adverse effects of salt in the diet.
The slightly bitter flavour of rocket is an indicator of its valuable antioxidant content.