Rocket, celery & chicken salad with lemon mayonnaise
Rocket, celery & chicken salad with lemon mayonnaise
Prep 20 mins + cooling time | Cook 20 mins | Serves 4
3 chicken breast fillets
2 cups chicken stock
1 lemon, sliced
2 green onions (shallots), trimmed and thinly sliced
2 sticks celery, trimmed and thinly sliced
100g baby rocket leaves
1⁄3 cup toasted mixed salad seeds
Lemon mayonnaise dressing
1⁄3 cup whole egg mayonnaise
1 tbs boiling water
2 tbs lemon juice
Step 1 Place chicken into a medium frying pan. Cover with stock, add lemon slices and bring to the boil over medium heat. Reduce heat and simmer for 12-15 minutes until just cooked through. Transfer to a plate, cover and cool in the fridge for 30 minutes.
Step 2 To make dressing, combine mayonnaise, water and lemon juice in a bowl. Season with salt and pepper to taste. Stir until well combined.
Step 3 Place green onions, celery, rocket and salad seeds in a bowl. Slice chicken diagonally and add to salad. Toss until well combined. Arrange on a serving platter or plates. Drizzle with lemon mayonnaise dressing and serve.
Good for you ...
Rocket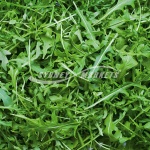 A source of vitamin C, folate, vitamin Ki) and beta carotene, which the body converts to vitamin A. Vitamin C contributes to collagen formation which is important in bones, teeth, gums and the skin. Folate is one of the B vitamins that is needed for formation of blood cells and normal cell division while vitamin K is needed for normal blood coagulation after an injury. Vitamin A is essential for normal vision.
Provides calcium, iron and potassium. Calcium is important for bone structure; iron is needed for normal blood cells while potassium can help balance the adverse effects of salt in the diet.
The slightly bitter flavour of rocket is an indicator of its valuable antioxidant content.