Rocket & red onion salad with BBQ steaks
Rocket & red onion salad with BBQ steaks
Prep 25 mins | Cook 15 mins | Serves 4
2 tbs olive oil
2 garlic cloves, finely chopped
1 tbs finely grated lemon rind + 1 tsp extra to serve
2 (about 350g each) thick sirloin or rump steaks
1⁄2 small red onion, halved and very thinly sliced
1⁄4 cup sherry or red wine vinegar
1 tsp caster sugar
olive oil cooking spray
250g stem cherry truss tomatoes
75g baby rocket leaves
50g parmesan cheese, shaved
1 tbs extra virgin olive oil
1 tbs chopped flat-leaf parsley, to serve
Aioli or horseradish cream, to serve
Step 1 Combine oil, garlic and lemon rind in a shallow ceramic dish. Season with sea salt and pepper. Add steak and turn to coat both sides. Cover and set aside for 15 minutes. Place onion in a small bowl and pour over vinegar and stir in sugar. Set aside for 10 minutes.
Step 2 Heat a greased barbecue grill or char-grill over medium-high heat. Cook steaks for 4-5 minutes on each side (for medium-rare) or until cooked to your liking. Transfer to a plate, cover and set aside to rest for 5 minutes. Meanwhile, spray tomatoes with oil. Barbecue tomatoes for 2-3 minutes until tender. Transfer to a plate.
Step 3 Drain onions and place into a bowl. Add rocket and parmesan. Drizzle with extra virgin olive oil and toss to combine. Slice steak and sprinkle with parsley and extra lemon rind. Serve with rocket & red onion salad, tomatoes and aioli or horseradish cream.
Good for you ...
Rocket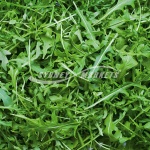 A source of vitamin C, folate, vitamin Ki) and beta carotene, which the body converts to vitamin A. Vitamin C contributes to collagen formation which is important in bones, teeth, gums and the skin. Folate is one of the B vitamins that is needed for formation of blood cells and normal cell division while vitamin K is needed for normal blood coagulation after an injury. Vitamin A is essential for normal vision.
Provides calcium, iron and potassium. Calcium is important for bone structure; iron is needed for normal blood cells while potassium can help balance the adverse effects of salt in the diet.
The slightly bitter flavour of rocket is an indicator of its valuable antioxidant content.