Roasted spiced cauliflower with tahini yoghurt dressing
Roasted spiced cauliflower with tahini yoghurt dressing
Prep 15 mins | Cook 30 mins | Serves 4 as a side dish
1⁄4 cup olive oil
2 garlic cloves, finely crushed
1 tsp ground cumin
1 tsp ground coriander
2 tbs lemon juice
1 medium cauliflower, trimmed and cut into large florets*
Baby spinach leaves, to serve
Tahini yoghurt dressing
1⁄2 cup thick natural yoghurt
1 tbs tahini
1 tsp lemon juice
* You'll need about 600g trimmed cauliflower florets
Step 1 Combine oil, garlic, cumin, coriander and lemon juice in a large bowl. Season with salt and pepper. Stir to combine. Add cauliflower and using your hands, toss to evenly coat in mixture.
Step 2 Line a large baking tray with non-stick baking paper. Arrange cauliflower mixture in a single layer on tray. Roast, tossing once, for 25-30 minutes until just tender.
Step 3 Meanwhile, to make dressing, combine yoghurt, tahini and lemon juice in a bowl. Whisk until well combined. Season with salt and pepper to taste. Spoon into a serving bowl.
Step 4 Arrange cauliflower on a serving platter. Serve with tahini yoghurt dressing and baby spinach leaves.
Good for you ...
Cauliflower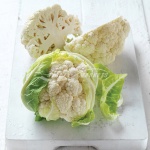 A source of dietary fibre which helps normal functions of the intestine to help keep us regular.
A good source of vitamin K which is one of the many nutrients contributing to normal bone structure.
An excellent source of vitamin C, with 100g supplying well over a full day's requirement. This vitamin contributes to the normal immune function.
A source of folate, a B vitamin that is important for normal blood cells.