Roasted pears with honey & walnuts
Roasted pears with honey & walnuts
Prep 20 mins | Cook 25 mins | Serves 4
4 medium just-ripe Beurre Bosc pears
¼ cup honey
1 tbs maple syrup
¼ tsp ground cinnamon + extra for sprinkling yoghurt
1/3 cup walnuts, roughly chopped
1 cup Greek-style natural yoghurt, to serve
Step 1 Preheat oven to 200°C /180°C fan-forced. Peel and halve pears lengthways and scoop out the cores. Place cut-side up into a large baking pan lined with baking paper.
Step 2 Combine honey, maple syrup and cinnamon in a small bowl. Microwave on high for 10 seconds. Drizzle mixture over pears. Roast pears, tossing occasionally, for 15 minutes.
Step 3 Top pears with walnuts and spoon over the pan juices. Roast for a further 10 minutes or until tender. Set aside to cool slightly. Spoon yoghurt into a serving dish, dust with cinnamon and serve with the pears.
Good for you ...
Beurre Bosc Pears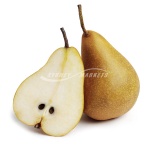 A good source of dietary fibre which contributes to normal laxation.
Provide vitamin C, which contributes to the normal functioning of the body's immune system.
Pears have a low GI (33-41), which means their natural sugars are broken down slowly for absorption into the bloodstream.